CB's Saltwater Outfitters, 1249 Stickney Point Rd, Sarasota, FL will hold an Orvis-Endorsed Fly Fishing School on Sat, Mar 14, 2020. The course, designed for beginning and intermediate fly casters, will focus on basic fly casting principles, improving casting skills and correcting faults, will be last class until fall. Instructors Capt. Rick Grassett and Capt. Ed Hurst, will also cover saltwater fly fishing techniques, leader construction and fly selection.
Cost for the class, which will run from 8:30 AM to 2 PM, is $195 per person and includes the use of Orvis fly tackle, workbook and lunch.
Optional instructional guided fly fishing trips are also available for an additional fee. Contact CB's Saltwater Outfitters at (941) 349-4400 or info@cbsoutfitters.com to make reservations.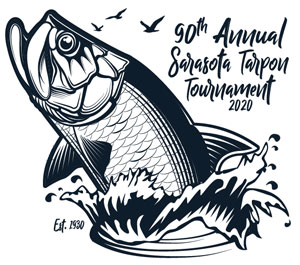 As we enter the 90th year of the Sarasota Tarpon Tournament we are proud to announce our 2020 tournament dates. The tournament begins on Saturday, May 9th and continues through Sunday, June 14th.
For the third year in a row the Kick-Off Celebration for the start of the 2020 Tarpon Tournament will be held at The White Buffalo Saloon in Sarasota on Wednesday night, May 6th.
Registration begins at 6:00 p.m. at The White Buffalo and the party starts at 7:00 p.m. Your $150 entry fee into the tournament gets you admittance to the Kick-Off event.
A cash bar will be available with LIVE MUSIC, GOOD TIMES, a LIVE AUCTION with some incredible outdoor EXPERIENCES from CCA as well as AMAZING RAFFLES for gear, tackle, paddle boards, coolers, artwork and much more.
2020 TOURNAMENT DATES:
FIVE FISHING WEEKS
Week 1: Sat., May 9 – Sat., May 16
Week 2: Sun., May 17 – Sat., May 23
Week 3: Sun., May 24 – May, 30
Week 4: Sun., May 31 – Sat., June 6
Week 5: Sun., June 7 – Sun., June 14
Fish-Off (primary): Sat., June 20
Fish-Off (rain-date): Sun., June 21
Fish-Off (alternate 1): Sat., June 27
Kick Off Party: Wed. May 6th – 6:00 PM
White Buffalo Saloon
Benefiting: